When I began Googling around for some quick info about the petrified trees on Specimen Ridge, I got a surprise: most of the hits that came up were from creationist websites. Yes, believe it or not, the young-earth creationists get all in a tizzy about Yellowstone's ancient forests. They're worth getting excited about, no doubt about that, because like most things fossilized, they give you a rare glimpse at a long, long vanished world.
The geologists who have examined the slopes of Specimen Ridge have identified at least 27 successive layers of forests, each destroyed and partially buried under volcanic ash from Mt. Washburn, then an active volcano. The estimate is that these layers represent some 20,000 years of growth/catastrophe/regrowth/catastrophe/regrowth, beginning some 50 million years ago.
If that seems like a long time ago, just remember that the Earth had already completed 99% of its current history by then. The dinosaurs were only recently deceased, the supercontinent of Pangaea had broken up, and the continents of the western hemisphere looked pretty much as they do now: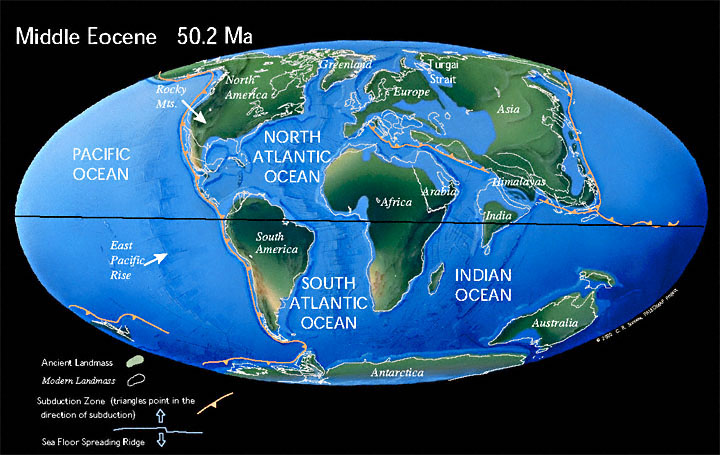 (Image via the Paleomap Project)

Still, from our vantage point, a long-vanished world. The trees found in these buried forests have living relatives and, if their current environments are any indication, Yellowstone in those days was a warm, humid place comparable to present-day Georgia. There are plenty of redwoods in these forests, but also maple, sycamore, walnut, chestnut, oak, dogwood - even magnolia trees. It doesn't take too close a look at my photo to realize that nothing like these will grow there today. Judging from the fact that all of the fossilized roots (when they can be found) show horizontal development, none of these trees seems to have grown on a hillside; each forest occupied a fairly flat valley and was buried under another level accumulation of ash and mud, until the earliest layer was some 1200 feet deep. The silica in the ash was absorbed into the wood, causing the fossilization that has preserved the trees to this day.
That all of this should provide fodder for creationists comes as rather a surprise, but it seems to all trace to a single geologist named
Harold Coffin
(Ph.D. from USC in 1969). He appears to have been associated with the creationist
Earth History Research Center
at Southwestern Adventist University (where they have a single Department of Biology and Geology!), but isn't listed as a current faculty member, so I'm not sure where he is nowadays. But Coffin has
published on Specimen Ridge
, claiming that the trees must have been transported to their present location; he has also
reported finding upright floating stumps
in Spirit Lake at Mt. St. Helens, which he suggests would explain the standing trees in Yellowstone.
Not everyone agrees
that the trees have been transported; in fact, I don't find that anyone else believes that Yellowstone's fossil trees came from anywhere but Yellowstone, allowing for some movement due to rapid
lahars
. But Coffin's work is all over the creationist websites, the same claims over and over again. Upright logs in Spirit Lake! Therefore the Flood! QED! It takes so little to make a creationist happy, particularly when you're talking about evidence.
But that's the general approach that creationists rely upon: pick out one little line of evidence, try to poke a hole in it, and then imagine that all of geology, paleontology, and biology would collapse along with it. Why petrified trees being carried to Yellowstone by flood waters or mud flows would prove a young earth is hard to fathom, but they're sure it's so.
If you really want to look at the trees in my photo and imagine that they floated there in a magic flood and came to rest in an upright position, go ahead; I can't stop you. I'll wait until some geologists who aren't under the influence tell me that it's so and, until then, use my imagination to picture beautiful hardwood forests filled with strange-looking animals (
Uintatheriums
, for example) walking across land that's going to get buried under volcanic ash, then get eroded away again until, 50 million years later, I can hike up a ridge and sit next to three of those very same trees. That's grander than any creation story I've ever heard.
________________________________________________
Main sources:
Erling Dorf,

Petrified Forests of Yellowstone

. National Park Service, 1980.
William J. Fritz,

Roadside Geology of the Yellowstone Country

. Mountain Press, 1985.