Here's a nice little view of Mammoth Hot Springs, the headquarters for Yellowstone National Park. It's just inside the northern boundary, 50 miles from Old Faithful and even farther from the more remote reaches of the park; it was selected more for its convenience to the outside world than to the rest of the park. The first government building
1
in Yellowstone was a blockhouse built in 1879 on Capitol Hill (the slope you see extending out of the upper right of the frame in the photo); the superintendent was still worried about the possibility of Indian raids (the Nez Perce, fleeing the US Army, had come through just a couple years previously and had killed a couple of tourists).
The red-roofed buildings in the distance are stone officer's barracks from the Fort Yellowstone days, when Yellowstone was an army post between 1886 and 1918. The US Army had been given control over the park after understaffed civilian administration failed to prevent poaching and other destruction. By all accounts, the Army did a commendable job, policing the tourists effectively and reducing poaching to levels that the wildlife could survive.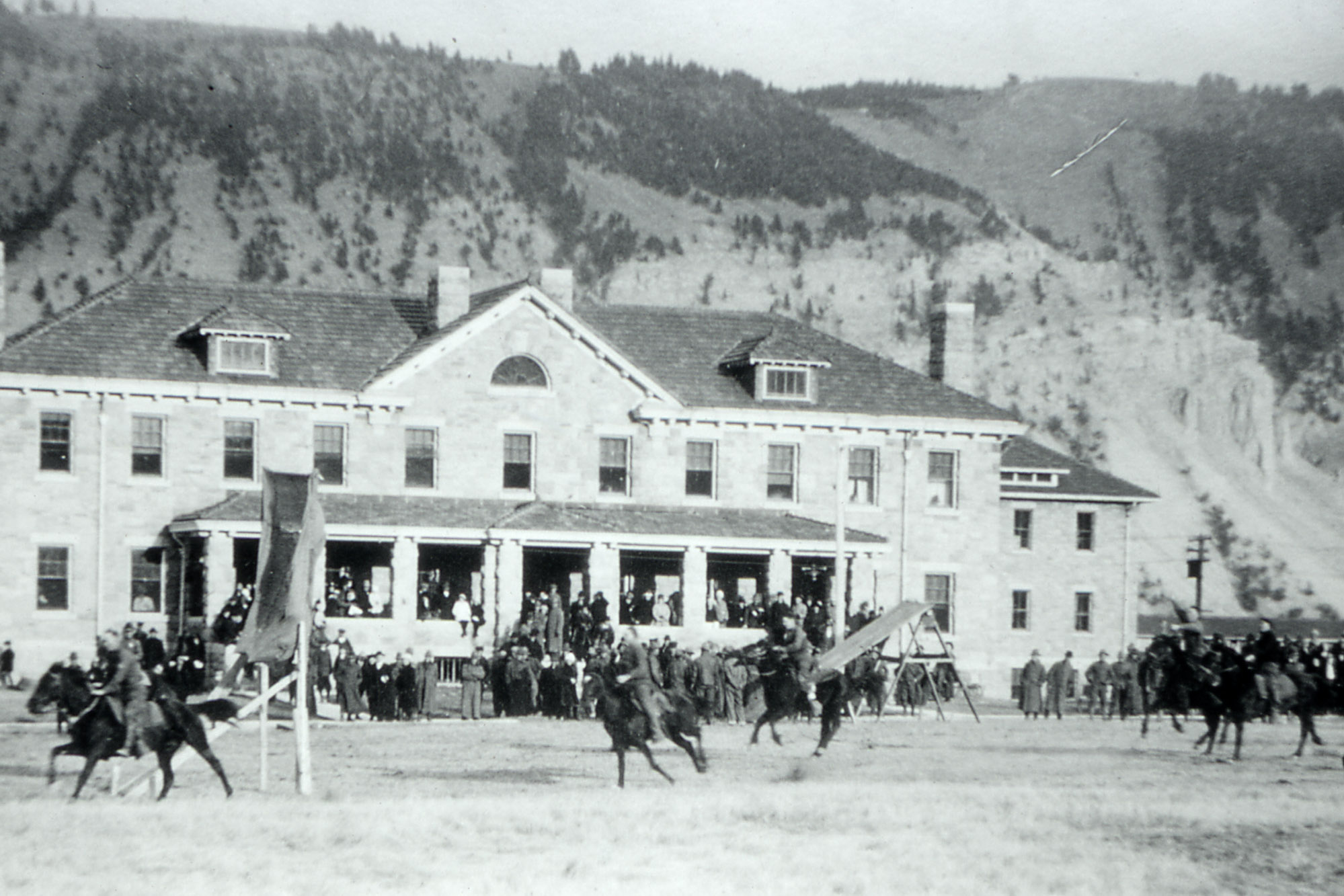 Those officer's barracks are still in use, most of them serving as residences, while the one nearest the main road is now the Visitors Center. The cottonwood trees lining Officer's Row were planted with, shall we say, military precision: they form a perfectly straight line from one end to the other. That flat area between Capitol Hill and the yellow hotel and restaurant on the left was a parade ground for the cavalry troop stationed there -- even though it's prone to sinkholes. In the winter, the parade ground was sometimes flooded to form a skating rink.
2
The Army gave up command in 1918, when the newly-minted National Park Service was up and running. They were ready to go, since it no longer made sense to station soldiers along the former frontier when they were badly needed elsewhere. But they left behind some solidly-constructed buildings and a helluva lot more wildlife than there would have been without them.
More reading:
Bartlett, Richard A.

A Wilderness Besieged
Haines, Aubrey L.

The Yellowstone Story
_____________________________________________
1. There was already a hotel at the site, to serve tourists who wanted to explore the hot spring terraces before heading off into the interior.

2. This is still done today, but behind the hotel and not on the parade ground.